June Atrocity >>>
Click HERE
August Atrocity>>>
Click HERE
--------------------------------------------------------------------------------------------------------------------------------------
In our continuing series of black male atrocities against innocent white people, this July addition is one of monstrous brutality, cowardice and inhuman cruelty.
--------------------------------------------------------------------------------------------------------------------------------------
Pennsylvania, June 21, 1985
Abuse Of Elderly - Torture - Murder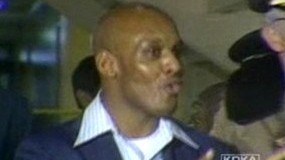 The BULLY
A black male,
Roland William Steele,
… convinced three elderly white women that there was a problem with their car and he would help them by driving them to an auto repair place. The three ladies were driven instead to a secluded location where Steele, who was a black belt in karate,

decided to use the women as practice for his karate kicks and punches.

Steele beat each one of the elderly women to death individually, meaning the first was beat to death while the other two were forced to watch, then the next one, then the last. The third victim, whoever she was, one can only imagine what terror trembled through her elderly body as she awaited her fate.
""Dr. Abernathy testified that Lucille Horner's injuries included significant bruising on her chin, chest, and back, damage to her heart, numerous fractures of her ribs, a fracture of her backbone, damage to her liver, and a torn larynx. Dr. Abernathy concluded that the cause of death was traumatic rupture of the heart. The autopsy of Sarah Kuntz revealed similar injuries, including bruises on her face, chest, and legs, lacerations to the scalp, fractured ribs, and damage to her heart and liver. Dr. Abernathy concluded that the cause of death was asphyxia due to a fracture of the larynx. With regard to Minnie Warrick, Dr. Abernathy testified that she also sustained bruising to the face and chest, fractured ribs, and heart damage, as well as a partially collapsed lung and blowout of the stomach wall. The cause of death for Minnie Warrick was traumatic rupture of the heart, with numerous companion injuries. "
Victims:
* Lucille Horner, 88
* Minnie Warrick, 86
* Sarah Kuntz, 85
http://www.aopc.org/OpPosting/Supreme/out/J-83-2003mo.pdf
Note:
The total amount of compensation awarded to the family members of these three innocent elderly victims from the federal gov't ... is
ZERO.
----------------------------------------------------------------------------------------------------------------
DOUBLE FEATURE BONUS
-------------------------------
Holmes County, Miss. Nov. 2010
Good Samaritan Murder



Two black males,
Erik Ellis, 28,
Malcolm Melton, 22,


…had car trouble and a white male - desiring to be a good Samaritan - pulled over to offer assistance. A few minutes later he had three bullets in him. It's not known whether the white male was dead at this point. The black males then took his body to a remote area, dosed him with gasoline, then set him on fire. Naturally, had the white male NOT stopped to offer help, he would be alive today.

Victim:
* Jimmy Sanders, 65

http://www.wlbt.com/Global/story.asp?S=13560548

--------------------------------------------------------
August Atrocity>>>
Click HERE